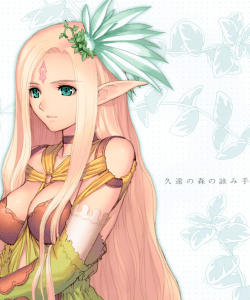 A flasify memory, left by the recollection of a bad childhood. But these moments where nice, before her father becom strange...
We are ten years before, in the Elves Kingdom, an unknown island. On this island, Four girls live here, each one is able to weild a power link to an element. Thoses girls are the princesses. Among them, there is Kin, the youngest. The older sister, who ave the Air power, is going to be over the age of majority soon. In the Elves society, when the heir reach 18 years old, they replace the ruler. On that day, the young white-haired elf went to see her father in his office. And she heard something her father said.
-If they weren't born, I won't have to give my position...
She didn't understand and warn her elder sister. She went talk to her father but she didn't come back. And two hous later, Kin was kidnapped. It was a demon, with a heart of stone, who change the memory of the girl and treat her as his slave. She had to obey during seven year. She escape this fate three years ago. Now, she try to live a normal life and fortget what she's been through.