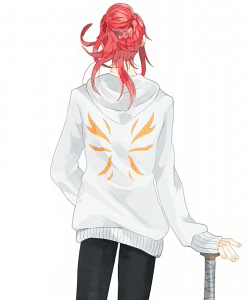 We are twenty-two years back, in a small village in the southern kingdom of the Fairy World. A young lady, Mrs. Yami, notices her curves. A few months later, little Enjeru has finally pointed the tip of his nose.

As a child, Enjeru was already amusing her mother with her extraordinary abilities. Quick in learning how to walk and speak, he was welcomed as a prodigy by his mother. At two years of age, he formed complete sentences, with subject, verb, complement, formula of politeness, and sustained language. Much appreciated by children his age, he found them very boring and very archaic with their lollipops and diapers. He dreamed only of one thing: to enter the legend. The day, during his hours with his teacher, he was only imagining saving the world. It was during this time that he discovered that he had breathing problems when he used his magic. He was still unaware that he was born of an affair of his mother with the king.

And then, at the age of seven, he discovered the truth about his title. He was taught, without taking gloves, that he would now be educated at the Nalinda Church every day, so that he might one day become a potential prince. Oh sure, it could only happen if something happened to his mother ... But he believed, he was making enormous efforts to become a prince. He learned by heart the behaviors to have. Assiduous and serious that we do not know him anymore, he showed great importance to become an excellent prince. He learned the fight with the sword. He imagined himself fighting with his magic, he ended up admitting that a good sword and a shield would be better for him when he would confront the people without powers. Until the day when everything rocked.

The loss of a loved one is what changes all men, regardless of their age. At eleven years, Enjeru knew what is called pain, the true, and the mourning. He was returning home, as usual after his fencing class, when he saw the funeral staff in front of his house. He ran, entered his living room and hit a wall. Where at least what he took for a wall. It was actually the legs of the chief clerk. Behind him, four people were heading for the exit. Feeling that the person transported was from his family (what's more logical?) The boy had rushed into the kitchen, where he had discovered the king, covered in blood, in shock. When he later questioned him, he told him how his mother had nearly killed him, and how he had stabbed him in defending himself. The kid did not believe for a moment. He knew that if his mother died, he would have to live as a son of the royal family. His world collapsed just as the doors of his house closed. His mother, one of the most loved beings, had just left this world for somewhere he hoped would be better forever. In tears, he had gone into his room to come out only two days later, completely emptied of his tears, he thought. Then, a few days later, he surprised a conversation between the priest and his father.

Hidden in the church after a particularly boring lesson (what do you mean he fall asleep and no one realized it?), He was awakened by the sound of the king's footsteps. Then his voice, and that of old guy. He had heard them talk for a long time, talking first about the education of Enjeru, the departure of the previous Third Prince and the orchestrated death of the mother who insisted a little too much to take back her son to the taste of the father. The principal concerned obviously did not know anything about this conversation. At this moment, lack of luck, the kid had made a hell of a bang as he fell from his bench. The two adults had turned around and could only see one end of his shoe as he was leaving the church. It was none the less necessary for the father to recognize his son and arrange for him to be silent and continue to act as if nothing had happened. By catching up with the kid, he made sure that never, never, did he reveal his plans, especially not to the Queen.

Nothing else has marked the life of our young man, now a prince. Until this day...

-Hang on!
It was snowing that day. Leaning on a blonde girl, the man activated his magic and passed his hands lit by a blue night over the many wounds she had.
-I-It is useless Highness... What... What I have is too... too serious... to be treated like that...
Despite the pain she had to endure, the girl smiled as best she could.
-Don't talk ! You will exhaust yourself for nothing!
-It hurts...
He turned off the magic of his left hand and stroked the girl's head.
-You'll be fine, do not worry...
-You shouldn't waste your magic on me, highness, she said while she was taking his right hand.
-No ! I didn't want to do this to you! I'm going to heal you !
She smiled a little more as he took her against him.
-I did not want to... Forgive me...
Enjeru did not feel her breathe anymore. Tears rose to his eyes and he began to cry, keeping the fairy's body against him. He had killed her in spite of himself.
-I wsh I could go back time to repair my mistake... Forgive me...

It was because of these words that Nalinda herself, the Fairies' Goddess, came to him and chose him as the Time Fairy. She explained to him what were the powers she offered him and the consequences he endured. Live less time? It was not a problem for our man who would even give his life to repair his fault. Nevertheless, he was advised not to reveal what he was now capable of, bad people might want to take advantage of it. This is how Enjeru Yami, Third Prince of the Fairy World, became the Fairy of Time. The only thing he did with those powers he got was going back two days and not making the same mistake. We can say that he gave a little of his time to this girl ...